We look forward to seeing you at one of our horse camp sessions, or in riding lessons. Sign up now for camp at
camphorsecountry.com
! Call (360) 691-7509 for a gift certificate to lease a horse, reserve a riding lesson or birthday party or pony ride and save those carrots for your horsy friends.
Start Date:
Saturdays, 11AM, 1:30, or 3 PM
Bring lots of long, skinny carrots for the horses and reserve ahead for a lesson.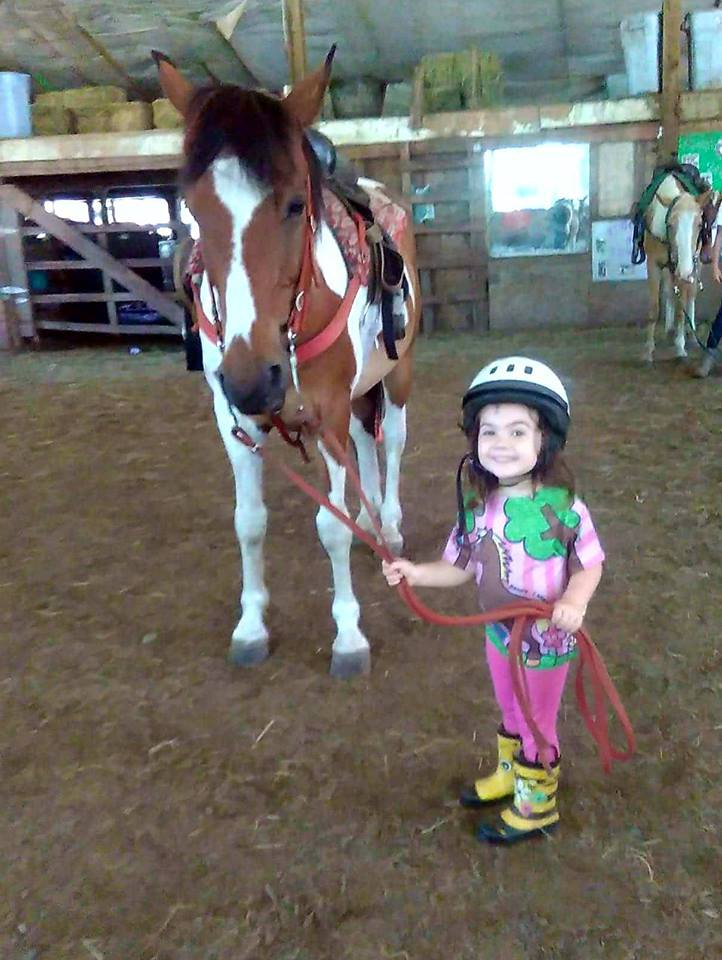 Class Lessons - (4 Students or more)
$40.00 Per 1/2 Hour
$60.00 Per Hour
1 Hour Riding ~ Western
By Appointment Only Includes Equestrian Helmet Rental
Parents should wear their walking shoes and be ready to help children, 7 and under, with steering, balance, control and anything else Shannon, the instructor needs.
Lessons for Beginning Riders, 7 years to Adults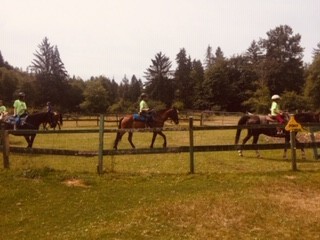 Private Lessons
~ $45.00 Per 1/2 Hour, $75.00 Per Hour
Semi-Private Lessons (2-3 Students):
$40.00 Per 1/2 Hour, $65.00 Per Hour
Class Lessons - (4 Students or more)
$35.00 Per 1/2 Hour, $55.00 Per Hour + $5.00 helmet rental
Western or Bareback, By Appointment Only Indoor and Outdoor Arenas Equestrian Helmet Rental: $5.00 per student, per lesson.
We love beginners, especially those with carrots!
We cater to "young and young at heart" riders, 7 years & up and adults returning to riding.
Equestrian helmets available for rent in the office are required for riders under 18.
$5.00 per lesson or $7.00 for the day.
Grooming and Saddling prior to your riding time.
Level:
Beginner ~ Advanced
Set up a station with your saddle, blankets and brushes. Lead your horse into the arena from its stall and learn to groom and saddle before riding. Remember your long, skinny carrots. Yes, ground school includes learning to clean the hooves.
Learn to Ride Like a Winner!
After more than 40 years in the horse biz at this location, we've seen many of our students grow up at Horse Country Farm, spending up to 10 years with us learning to ride. They are lesson students who go onto horse camp, then become peer counselors (C.I.T.s) who help teach others to ride, learn to train horses as leasers. In Amy's case, she bought her beloved Tonka from us and took him off to Washington State University with her. We don't know how much he learned there, but he was thrilled to go on with "his girl." Amy is now the Palouse Empire Rodeo Queen. These are only three of our Horse Country Farm grads who have continued to grow as riders in their adult years. We proudly call them, "Our College Girls" while we teach the next group of young horselovers who will follow in their bootsteps.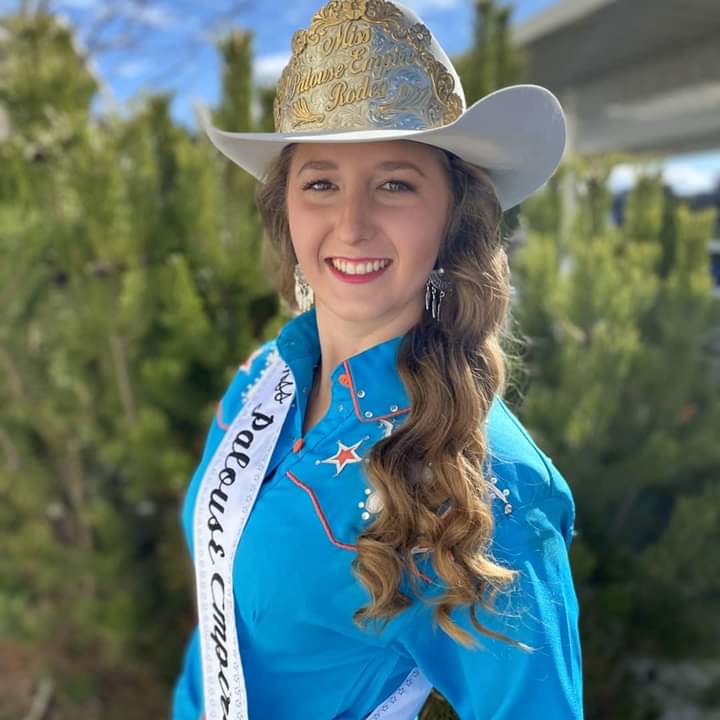 Amy Pilloud rode with the WSU equestrian team and was the Palouse Empire Rodeo Queen with Tonka, her black Morgan from Horse Country Farm.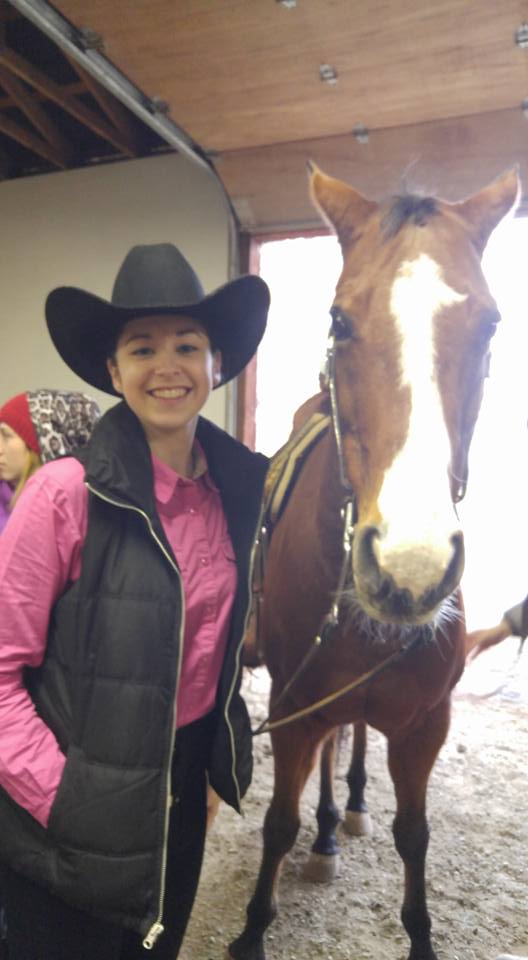 Arianna Lapke-Malone learned to ride at Horse Country Farm and competed with the WWU equestrian team in Bellingham, WA.
Radhika Raj took lessons, came to horse day camp, leased horses and taught new riders as a peer counselor (C.I.T.) and rode with the
WWU equestrian team in Bellingham, WA
Horse Country Farm Internship Program
Duration:
1 month to 1 year, 4 days each month.
Level:
Intermediate to Advanced Riders, 16 - Adult, (Returning Riders).
Description:
This is a Discounted Riding and Training Program for horse-lovers who want to work with horses and learn all about them. Interns work hard, but also enjoy riding, helping train young horses, helping teach new students, assisting the veterinarian and horse-shoer as well as participating in other horsy activities here on the farm.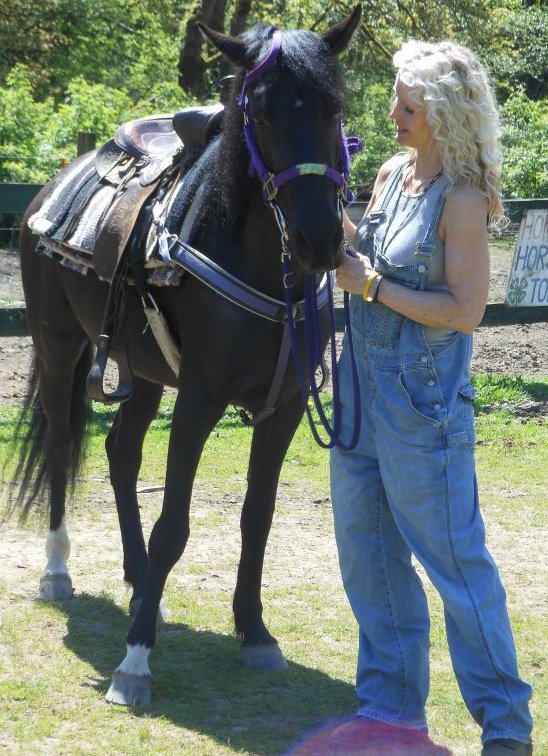 Internship Schedule includes:
8 AM - Help Open the Farm:
Bringing in Horses, Feeding, Watering and other horsy chores.
10 AM
- Assistant Instructor for Ground School, help teach grooming & saddling.
11 AM
- Your Riding Lesson - 1 Hour
12 PM
Lunch - Eat lunch with students, leasers and other staff.
1 PM
- Young Horse Class, Lesson or Trail Ride.
2:30 PM
- Patterns on Horseback or Trail Ride or Games on Horseback
4:30 PM
- Stable Management - Help Close the Farm* (This includes teaching leasers and riding students how to unsaddle, turn out horses, feeding, watering, mucking stalls and other horsy chores).
5:30 PM
- All done - See you next time!
Hours adjusted for Daylight Saving Time from November to March
9 Hour Horse Lease - Practice Time
Practice what you learn in your lessons when you lease one of our horses.
Time With Your Favorite Horse. ALL HORSE COUNTRY FARM LEASES INCLUDE:
Western & Bareback Riding Lessons ~ at No Additional Cost. Horse comes with saddles, pads, bridles, daily care, feed, grain, hoof trims, & vet care. Ride, ride, ride!
Ages: 7 to Adult
Horse Time = Grooming, Saddling, Trail Riding, Arena Practice, Riding With Friends, & Hanging Out With Your Horse. Total Cost: $285.00 Horse, $310.00 Warmblood* ~ (*A Warmblood is a cross between a draft and light horse breed such as Nevada).
All Riders under 18 must bring/rent an equestrian helmet. If you do not have a helmet, you may rent one in the office.
$5.00 an hour, $7.00 a day, $25.00 a month
All students must DRESS TO RIDE, per the instructor's directions. Bring lots of long, skinny carrots for your horse.
Meet some of our amazing lesson horses!
Give someone a wonderful "horsy" adventure!
Gift Certificates for Riding Lessons, A Day at Horse Country, Horse Leases, Pony Rides and Summer Day Camp 2022 are available. Does your favorite horse~lover enjoy reading about horses as well as riding them? Yes, you can purchase signed copies of riding instructor, Shannon Kennedy's books at Horse Country Farm. She also writes western (cowgirl) romances as Josie Malone. Wrap up a book, a package of long, skinny carrots along with the gift certificate and you'll make horse~lovers of any age horsy-happy.
Email: ckennedy@horsecountryfarm.com
360-691-7509 ~ 425-335-4773
Meet Your Riding Instructor
Riding instructor and owner, Shannon Kennedy trains horses and teaches horsemanship at Horse Country Farm. Teaching kids to ride horses since 1967, she finds in many cases, she's taught three generations of families. She graduated from Washington State University with BA degrees in English and History. She attended graduate school at Western Washington University, earning a masters in teaching degree that she utilizes as a riding instructor during the school year, as well as the director of Camp Horse Country during the summer. She writes young adult fiction as Shannon Kennedy for Fire & Ice YA. Melange Satin Romance publishes her paranormal western (cowgirl) romances as Josie Malone. She currently has 25 books in print and is working on the next story in her Baker City Hearts and Haunts "ghost" romance series.
Here are some of Shannon's books!
Shannon's books are available at BarnesandNoble.com, Amazon, the Lake Stevens Co-Op Feedstore, Wits' End Bookstore in Marysville, WA and of course at Horse Country Farm. She will be happy to autograph your books for you before or after your ride. If you don't find her in the arena, you can catch her in the barns, mucking, watering, grooming or feeding horses. Visit her websites to learn more about her books.
josiemalone.com
~
shannonkennedybooks.com